The e-Rex is a modern electric scooter with a sporty design. It comes with an electric motor and is equipped with premium components, such as the twin-piston caliper disc brake, which offers you a top-quality driving experience.
Twin-piston brake calipers
Double Rear Shock Absorber
USB Socket & Digital Dashboard
The electric motor is the powerplant of an electric scooter and the e-Rex could not have a better one. It is equipped with a 1500W Electric Motor, ensuring you have an efficient and plentiful, yet absolutely silent, power source. Acceleration becomes an easy task with the e-Rex. As for the battery, it comes with one 20Ah 60V battery that offers you 60km of range. There is the option to include up to two more batteries.
As they say, a picture is worth a thousand words. The e-Rex has a total sport design, with sharp edges and an aggressive front end. It is designed and built to feel and look sporty.
Disc Brakes & Shock Absorber
Safety is Nipponia's priority. Twin-piston brake calipers offer much more effective and controlled braking. Disc brakes on the front and the rear wheel for higher braking efficiency and a double rear shock absorber with 12-inch tyres guarantee a stable ride even at higher speeds.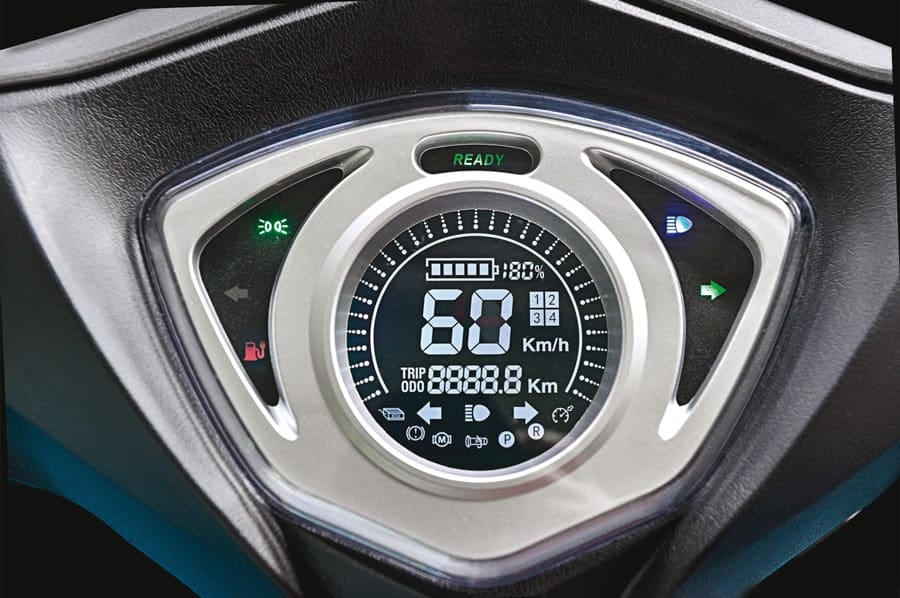 The e-Rex is an excellent electric scooter from top to the bottom. This also includes the digital features of this e-scooter. An LCD screen ensures you are always aware of all the vital indications on your e-scooter, regardless of the time of day. The e-Rex has a USB socket as well, offering you the option to charge your smartphone even when you are on the move.
One of the things you will never have to worry about with this e-scooter is storage space. Under the seat, there is enough space to store your helmet, clothes and essential items you may carry. There is additional room below the handlebar. There is also a rear grip ensuring a pleasant ride for the passenger.
The e-Rex comes with LED lighting in the rear. It has also the daytime lights (DRL) to enhance your visibility to others.
A closer look at the e-Rex
| | |
| --- | --- |
| Motor | 1500W |
| Battery | 1 x Lithium-ion 60V 20AH |
| Max. range (km)* | 45 (60) |
| Motor controller | VECTOR (FOC) |
| Max. power | 1.5 kW at 400 rpm |
| Max. torque | 36 Nm at 400 rpm |
| Full charge time | 5 |
| Max. speed (km/h) | 45 (25) |
| Gradeability capacity | 15° |
| Front/Rear brake | DISC |
| Front/Rear tyre | 120/70-12 / 120/70-12 |
| Seat height (mm) | 830 |
| Weight (kg) | 82 |
| Wheelbase (mm) | 1265 |
| Overall size (mm) | 1800x630x1120 |
| Colours | Grey, Black, Blue, White |
| LED lights | Yes (Rear) |
| Rear grip | Yes |
| USB socket | Yes |
| Digital dashboard | Yes |
*When purchasing an electrically powered vehicle, the buyer must take into account that the specified range is an indication that depends on many factors, including: outside temperature; rider weight and freight; age and condition of the battery(s); tire pressure; state of maintenance of the vehicle; mounted accessories; driving style; set pulling force and maximum speed. The supplier specifies a range that can be achieved under normal circumstances and when applying the legal maximum speed.